The marina with its sailboats and boats is located in the heart of the city, near the beaches, where you can practice all kinds of nautical activities. In the evening, the port comes alive with exhibition stands, outdoor dining and a musical atmosphere.
Sail light, windsurfers and dinghies or outputs schooner with picnic discovery,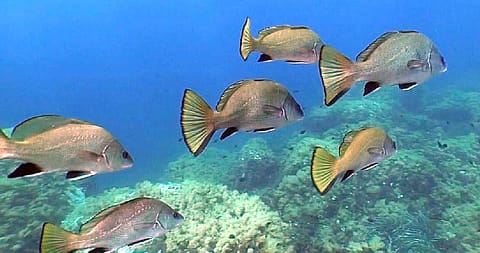 Scuba diving or aquatic walks to discover the seabed,
Sea excursions to visit the Golden Islands (Islands of Porquerolles, Le Levant and Port Cros), or take a coastal walk from creeks.
In season, departure from the port of regular shuttles to the islands of Porquerolles, Le Levant and Port Cros,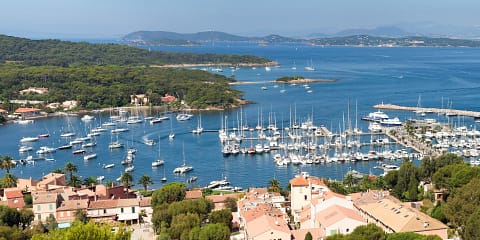 Jet-ski, Flyboard: Cavalaire Bay offers a magnificent playground for all lovers of motor sport. Baptism, initiation, hiking,
Waterskiing or Wake Board: Sports sliding in the bay of Cavalaire,
Towed buoys: individual, group or family buoy, towed gear is really a fun nautical activity,
Paddle: the Paddle is a variant of Paddle Board which consists of sailing upright on a surfboard while rowing with a paddle,
Canoe Kayak: embark aboard a Sea Kayak alone or in pairs and explore Cavalaire Bay and the heavenly coves,
Pedal boats: rent a pedal boat and go with the family to enjoy the jumps and slide on the slide in the bay,
Kite Surf: kite Surf combines a traction kite with an adapted surfboard. Raised by the wind, you can soar through the air for breathtaking sensations,
Parasailing: breathtaking view of the bay and its surroundings and sensations of flying in the air,
ULM flight: aerial walk aboard a seaplane,
Sea fishing, Coastal fishing.
Children's activities on the beach :
The WOUAFOU club, children's playground:
Inflatable games (giraffe, slide), duck fishing, tree climbing, trampolines with nets, Aero-trampoline, water ball.
Swimming lessons, daycare with BAFA animators – Paddle and pedal boat rental with slide.
Refreshment stand.
The sports activities :
Muscle awakening, water aerobics, gymnastics shower, Beach soccer or Beach volleyball, soccer, basketball, tennis, volleyball, badminton, golf, bowling, gym, bodybuilding, yoga, judo, horse riding, mountain biking, cycling, roller skate, skateboarding, hiking, climbing..
And the many bowling alleys in the city.
Touristics attractions :
Casino, Media library, Discotheque, cinema, theater, museum, botanical garden, amusement and water parks, port, bay, marina, shopping, eco-tourism,